Welcome to
Al tamam kitchens
Al Tamam Kitchen Equipment Industries LLC is a MNC with networks across India and manufacturing and production facilities at P.O. Box: 27415, Sharjah, UAE. Al Tamam Kitchen Equipment Industries LLC was founded in India in the Name of Al Tamam Equipment Industries as a Commercial Food Service Equipment Manufacturer in Thrissur (Kerala, India) in 2006. Al Tamam Kitchen Equipment Industries LLC, our past, present and future are designed by the incorporeal value contributed by the combination of our people, their commitment, innovation and craftsmanship. These are our strength and energy aiding us toward excellence which has made us what we are today.

The company has eminently catered to the needs of Hotels, Restaurants, Hospitals, etc in India for the last 8 years and is continuing the same in UAE. The deep & in-depth knowledge of the Directors and meeting the challenges of Kitchen Equipment Industries in the Middle East has assisted the company to acquire distinguished position as trustworthy Kitchen Equipment Manufacturer in India.
What we
Stand For
Our Core Values
MANUFACTURERS
VENTILATION SYSTEMS
SUPPORT
DESIGN
Advanced materials, improved designs and new manufacturing techniques deliver better-than-ever products and Al Tamam has successfully incorporated these new developments into the company. Al Tamam has successfully built itself a sound reputation based on competent workmanship, quality, reliability and good management.
Al Tamam Ventilated Ceiling is fabricated from stainless steel 304 and can be fabricated seamless up to any lengths. All visible surfaces are ultra-fine grain polished and the joints are welded and polishes. The ceiling between the exhaust is fitted with removable stainless steel panels. Perforated stainless steel ceiling panels are used for the vertical supply air. Filtration of the exhaust air is done through the filters and integrated light is supplied by us. All units are provided with fixture points for installation.
Al Tamam being a customer centric organization, we always on its toes to provide technical services to troubleshoot and rectify breakdown equipment. A job order is released against a formal work order from customer either for inspection or complete servicing and the professional technicians are allocated to complete the job.

Almost all equipment have warranty for one year on spares from the date of purchase against any manufacturing defect or reasons resulting in parts failure other than mishandling by operator or ware & tear. The warranty support extended is the same as given by the manufactures. Labor support is free of cost for one year. Refrigeration equipment's have labor charges for gas charging during the warranty period unless & until the manufacturer supports it. Customers are requested to send their service or support requests to service@altamamkitchens.com
We provide full-fledged facility planning for ourclients free of cost. We have qualified andexperienced Auto Cad Draftsman on boardcapable of planning the kitchen and back of thekitchen areas. Facility planning includes Equipmentlay outing according to the needs of the client,BOQ, Tender, Services drawings etc. The read more button of all these contents will be taken to About Us page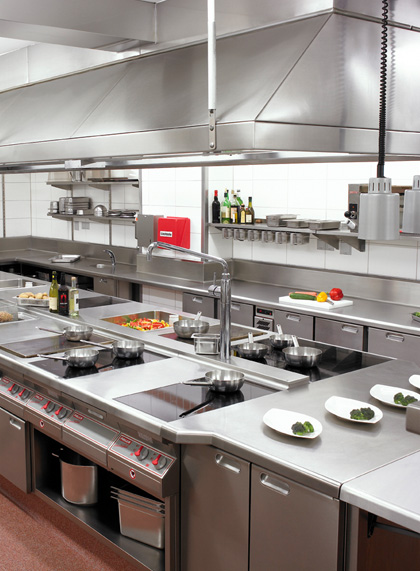 Infrastructure
Our state - of - the - art infrastructure is backed with technologically advanced tools and machineries that assist in the quality and quantity production in Commercial Kitchen Equipment's. Moreover, the full-bodied infrastructural base has also played a vital role in the consistent growth of the company in the cutthroat competition.
QUALITY ASSURANCE
Remaining to the motto to serve flawless quality products to our clients, various quality tests are performed under the supervision of our quality control executives.
CUSTOMER'S FULLFILLMENT
Being a customer centric organization, we have also strived to deliver flawless quality products and prompt services. In addition to this, the after sales services offered by us have also raised the bars of satisfaction of the patrons.
FACILITY PLANNING
We provide full-fledged facility planning for our regular clients free of cost. We have qualified and experienced Auto Cad Draftsman on board capable of planning the kitchen and back of the house areas. Facility planning includes Equipment lay outing according to the needs of the client, BOQ, Tender, Services drawings etc.